Examination Results
Due to the pandemic there are no performance tables for 2020-2021
KS4

KS5

Destinations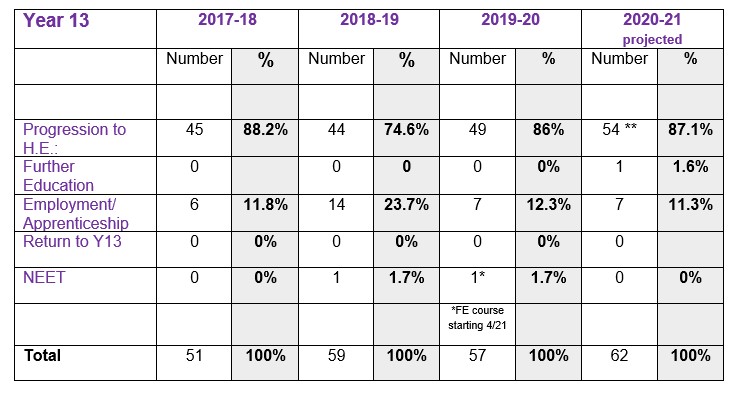 GCSE Results Day 2020 – strong performance testament to hard work of everyone at Weston Favell Academy
Pupils collected their grades today, Thursday 20th August, which were decided by teachers after exams were cancelled because of Covid-19. However, some pupils will still be waiting for final grades as the awarding bodies for BTECs and Cambridge Nationals take more time to adjust their calculations.
Principal, Lorna Leventhal, said "I could not be prouder of our Year 11 pupils at Weston Favell Academy. These grades are the result of years of excellent teaching and learning, dedication and resilience and are very well deserved. As an academy, we are passionate about providing the best possible education and empowering our pupils to fulfil their potential, and these results not only demonstrate the impact of this ethos but are a testament to the hard work of our pupils, staff and parents. I am excited for our pupils to move onto the next stage of their lives and look forward to welcoming back those who will be joining our Sixth Form at Weston Favell Academy from September."
Notable achievements include:
Muniba Chowdhury who earned seven Grade 9s and an 8
Zeki Osman who got six Grade 9s, two Grade 8s and a Grade 7
Alice Smith who received three Grade 9s, five Grade 8s and two Grade 7s
Amelia Munro who earned three Grade 9s, three Grade 8s and three Grade 7s
Omid Omarkhil with three Grade 9s, two Grade 8s and three Grade 7s
Lewis Hirons with three Grade 9s, two Grade 8s, three Grade 7s and a Grade 6
Konrad Polacarz who achieved two Grade 9s, two Grade 8s, three Grade 7s and two Grade 6s
Riley Wass with two Grade 9s, three Grade 7s and a Grade 6
Performance Tables
Click here to view the Department for Education School Performance Tables for the Weston Favell Academy.